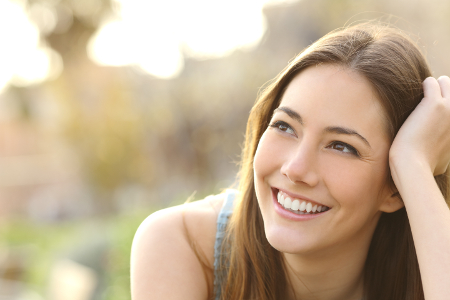 Look in the mirror. Are you pleased with the alignment and spacing of your smile? If you think a few tweaks may be in order, come discuss Invisalign clear braces with Dr. Nick Randall.
Here at Chino Valley Family Dental, we provide Invisalign clear braces because many patients find them to be the most convenient and comfortable form of orthodontics.
Have you ever heard of orthodontics being subtle, smooth, and hassle-free? Invisalign aligners provide our patients with everything they could hope for from braces.
How Does Invisalign Work?
Invisalign consists of a number of sets of clear plastic aligners. Each time your teeth move to a new position, you will begin wearing the next set of aligners.
The aligners are created to fit your teeth beautifully for a subtle look and a comfortable experience. You should remove the aligners to eat and to care for your teeth. You can also remove them for short periods of time for sports or special events.
Take Advantage of Invisalign
Here are some of the benefits of Invisalign braces that you'll receive each time you wear them:
No Rules | Invisalign doesn't require you to limit your food choices! You can remove your aligners to eat sticky, hard, or crunchy foods.
Uncomplicated Care | Remove your Invisalign aligners and place them in denture cleaner to care for them. You can also cleanse them with a toothbrush. You can brush and floss your natural teeth as usual.
Sore Free | Avoid the sores and cuts of traditional metal braces when you choose Invisalign. The plastic aligners are even and smooth to provide you with paramount comfort.
Invisalign is a great way to improve crossbite, overbite, or wide spaces between the teeth. We will strive to make your orthodontic experience suitable for your lifestyle. Call us today at Chino Valley Family Dental to schedule your appointment.