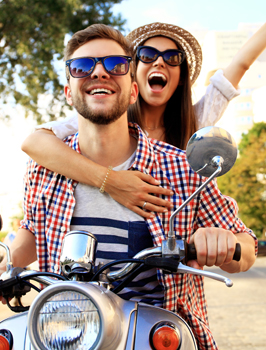 What Are Porcelain Veneers?
Veneers are shells that are bonded to the front of your teeth. They are wafer-thin and made from porcelain, a material that is both stain resistant and looks like your natural tooth. With veneers, you can change the color, size, and length of your teeth.
Why Should I Get Porcelain Veneers?
Last for Years – Well maintained veneers can last for years.
Resist Stains – Porcelain is a material that naturally resists stains and discoloration.
A Better Smile – If you have chips, cracks, or stains, porcelain veneers can help fix them. Porcelain veneers can also be used to remove gaps and change the length of your teeth.
No Special Maintenance – Veneers don't usually require any special type of maintenance. Using good oral health practices, such as brushing and flossing, should be enough.
Low Irritant – The porcelain material is known to be well-tolerated by gum tissue, which can lead to less irritation.

What Do I Do Now?

The First Appointment – During your first appointment, we will perform an examination of your teeth and talk about veneers as a dental option. X-rays may be taken.
Preparation – It's important to prepare teeth for veneer applications. This means removing about ½ millimeter of enamel from your tooth's surface. We may recommend the use of a local anesthetic. The next step is to take an impression of your teeth, which will be sent to a laboratory for the manufacture of the veneer.
Bonding – Prior to bonding, we will need to verify the size and color, for a natural look, before the veneer is bonded to your tooth.
You Can Have the Smile of Your Dreams!
Here at Chino Valley Family Dental, we know how important your smile is to you. Make an appointment today with Dr. Randall and get on the road to a brighter, healthier-looking smile. Call now!